A Closer Look into Our Spring Clips
Interestingly, at European Springs and Pressings Ireland, one of our most in-demand products are spring clips. So today, we will discuss the purpose of them and why ours are in such demand. We'll explore how they're made, the different types of spring clips available, and where you may have used them. Read on to discover more.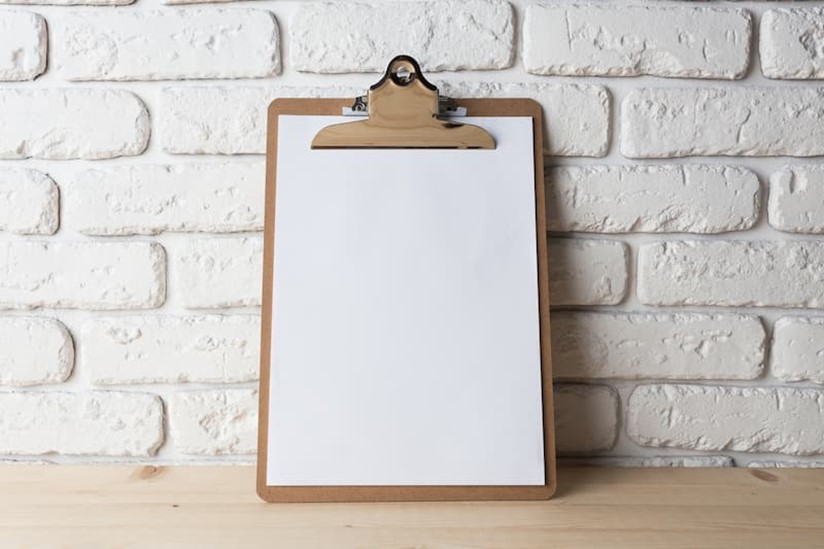 What Are Spring Clips?
Starting with the basics, what is a spring clip? A spring clip is uniquely shaped to hold cylindrical objects. They have an easily identifiable U-shape with a base to be attached to something but hold something else. 
This spring is what you want to tightly secure a cylindrical object like a pipe or rounded tool. They can also be used in mechanical equipment with moving parts to help attach those moving parts. Both clips give you the flexibility of snapping cylindrical objects in or out of the clip at will. 
What Are Spring Clips Made From?
The most common spring clip types are made from either plastic or stainless-steel sheet metal. Choosing between these two materials depends on how you intend to use the clip. Plastic is flexible, so this is an excellent choice for changing environments. On the other hand, metal spring clips are much sturdier and designed for a more permanent fixture holding a heavier object.  
As spring clip manufacturers, we feel it's essential to take specific considerations in order when choosing your material: 
How heavy is the held object?

 

How much pressure do you need on it?

 
Is it a moving environment?

 

Are there vibrations?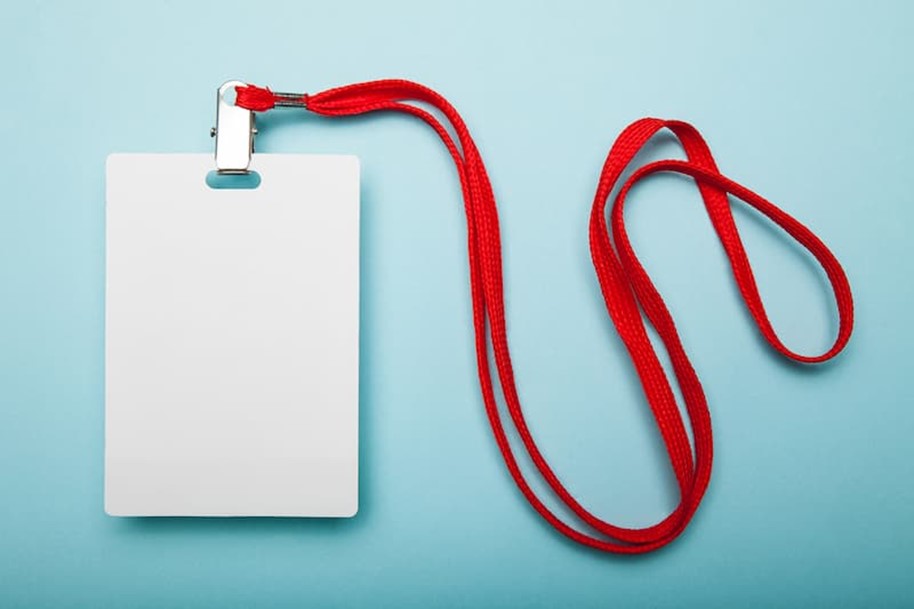 Spring Clip Design and Manufacturing
Stainless steel spring clips usually have vinyl or synthetic rubber protective coating. This helps reduce chaffing damage and abrasion when using it. A nylon coating is fantastic for scratch protection. However, zinc covering will have a better visual appeal and help protect the steel underneath from long-term embrittlement.  
Plastic is a more common spring clip material but can have a short life. What you gain financially, you lose when the clip needs replacing frequently. This is only a choice for the lightest of objects to hold.  
Different Types of Spring Clips
There isn't a single type of spring clip. However, as experienced spring clip manufacturers, we understand that specific clips are needed for various applications.  
Circlips or circular clips, for example, are small rings made of semi-flexible metal. These are primarily used in machined grooves where their main job is to hold dowel pins in place. However, they can also be used in driveshafts; they replace the standard nut, bolt, and washer combination for a far more effective solution.  
A spring button clip is far simpler than the standard spring clip. They are flat strips of metal, bent with two raised plugs at the ends. These are best used to lock two-part pieces together. The hollow buttons also act as sockets. You wrap the clip around your object and lock it in place by inserting one button into another.  
Wire spring clips are slightly different, and they are also known generally as wire forms. Wire forms are designed for computers and other micro constructions. These clips do not hold two moving parts in place; instead, they are an integral part of the construction, much like any other component.  
Small metal spring clips are an example many people will be familiar with. These small metal clips are most commonly attached to lanyards, badges or security ID cards.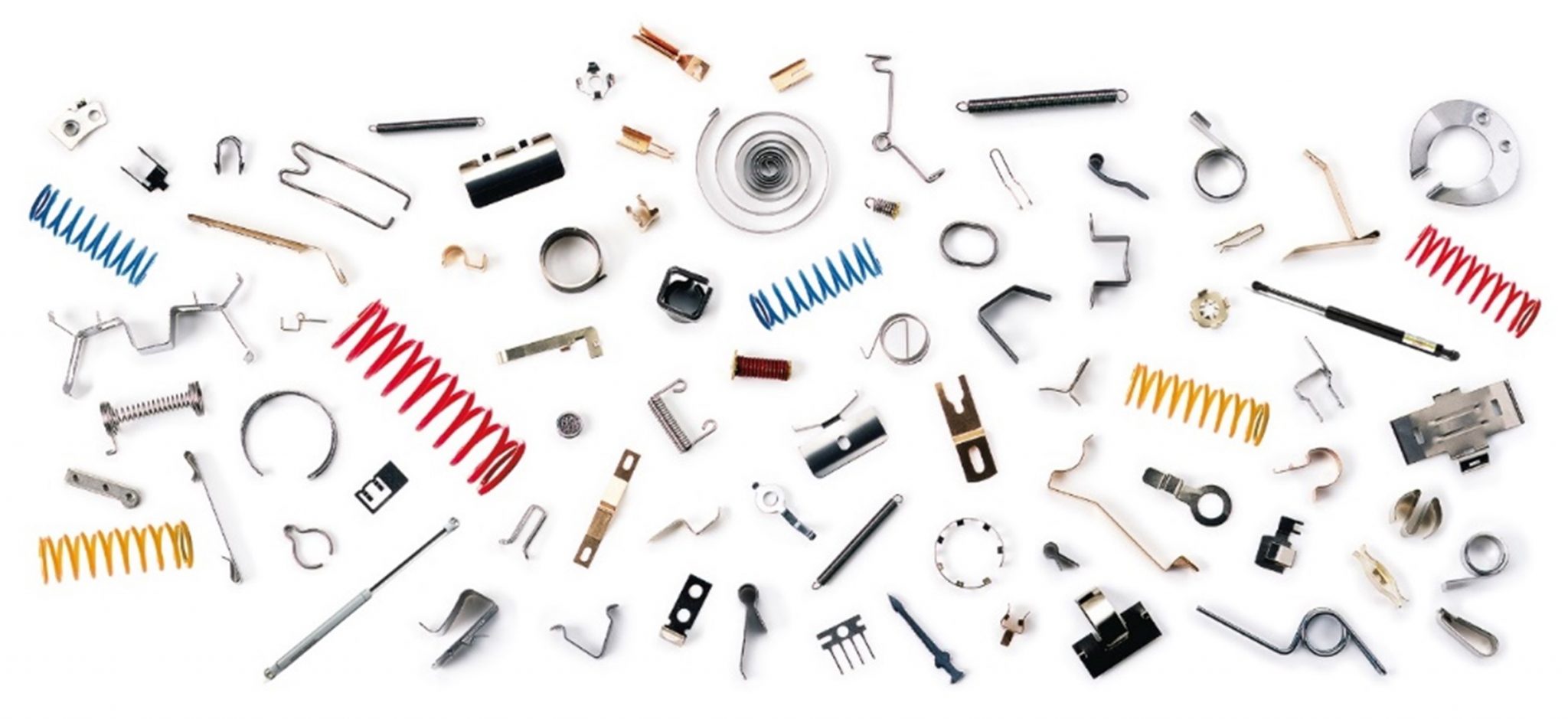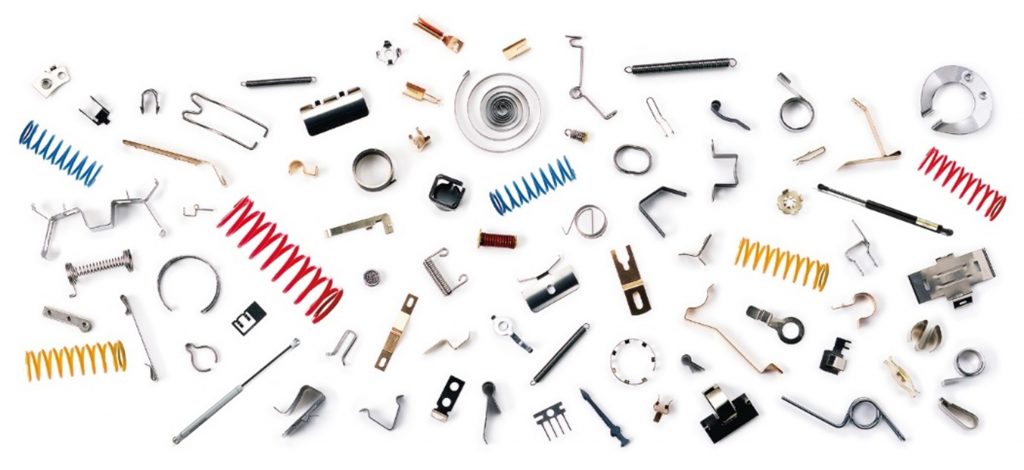 What Industries Use Spring Clips?
Due to the versatility and variety of choice from spring clips, they are used in almost every sector you can think of. From construction to textiles manufacturing. Electrical engineering, agriculture, and telecommunications.  
These industries need every component to function at its best, including humble spring clips. As spring suppliers and members of the Institute of Spring Technology, we understand the high levels of quality required from our spring clips and are confident that ours meet those exacting standards.  
Where Have You Used Spring Clips?
You can find Spring clips in many applications, including domestic ones. For example, you could discover flat spring clips on the top of a clipboard holding papers. Small metal spring clips are great for holding lanyards when you go to an event. 
Wire spring clips are excellent at evenly distributing pressure along a fragile surface like the glass panes of a greenhouse. You may have a circular spring clip in your pocket in the form of a keyring.  
How Can European Springs Help?
At European Springs Ireland, we are highly regarded for our high-quality springs and pressings. Our state-of-the-art manufacturing facilities combined with our innovative designs has made us a pioneer of bespoke springs, pressings, and other products such as spring clips.  
If you have any questions about our spring clips or any of our bespoke products, don't hesitate to contact us, our experts are eager to answer any of your questions.