Motor Springs & Motor Spring Manufacturers
Where the requirement is to provide several turns of torsional force, a motor spring may be used instead of a torsion spring. Motor springs may be locked onto an attached shaft using a catch, or alternatively fastened to a pin or housing edge. We stock standard motor springs with either 10 or 20 turns of available spring force. Many of these springs are used within the electric power industry, often in backup devices, and their stainless steel forms are specifically honed to retain longevity even within demanding applications.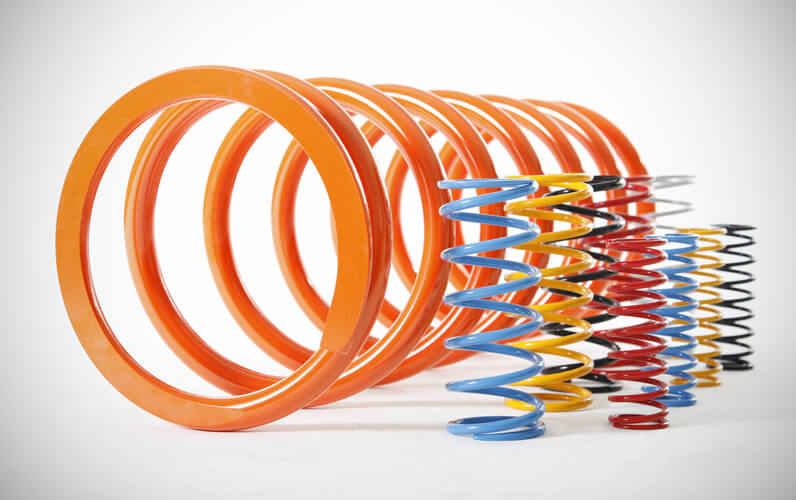 At times, you may require more torque than a single motor spring can provide. In this instance, two or more springs may be ganged together (note they should be separated by washers). Alternatively, European Springs and Pressings Ltd can manufacture springs to your own specifications in alternate materials such as carbon spring steel, or to different dimensions to achieve optimum performance.
Torque has a profound effect on the fatigue life of a spring – as does the spring size – and so multiple springs can help to offset any difficulties which may arise when using a single spring. As one of the most innovative spring manufacturers to be supplying Ireland, we'll also provide springs that are secured with a nylon band, and recommend that, on fitting, the springs are lubricated to reduce friction. Without this, you may experience up to 20% loss of force.
We've been manufacturing springs since 1948, and so we have a wealth of experience when it comes to motor springs. As with all of our products, we can supply both standard and bespoke springs as you require, and can even help to identify the best solution for your problem if you haven't been able to do so yourself. We can meet any scale of demand that you have in mind, and will also do so quickly as a result of our advanced facilities, so you can approach us safe in the knowledge that you'll receive the best possible service.
Contact Us for Motor Springs
If you require further information about bespoke motor springs, made to meet your precise specifications, then please do not hesitate to contact European Springs Ireland.