Die Springs
What are Die Springs?
Die springs are often referred to as a 'high force compression spring'. They are strengthened and concentrated into a hybrid design that has been optimised to excel under environmental stress. Part of the secret behind high force die springs is the use of rectangular wire instead of circular wire, and these incredibly robust springs can withstand temperatures of up to 200°C, and also outperform compression springs in terms of load bearing by around 30%.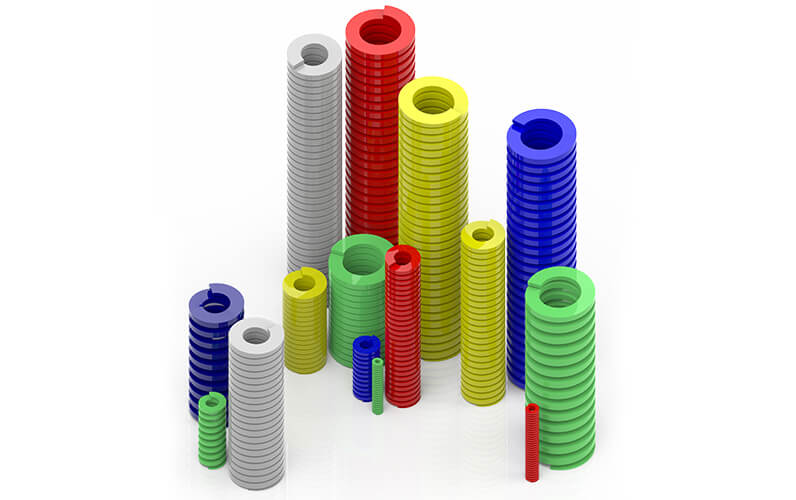 Used within clutches, brakes and various forms of heavy machinery, die springs are also a staple within injection moulding and punching equipment, as their ability to last longer under heavy load application and in demanding conditions makes them ideal. They are the spring of choice when a high force is required or when there are limited installation dimensions or a confined space. Die springs come in 4-5 distinct types of force class to choose from, ranging from 1 to 5. To achieve the best outcome from your choice of die spring you should always choose the most appropriate force class.
High Quality Die Spring Manufacturers
Here at European Springs and Pressings Ltd, we're part of the membership for The Institute of Spring Technology and the ISME, supporting our registration with BSI to ISO9001. Our die springs are engineered to give a set physical force when under certain compressions, and they will conform to this pressure every time they are under that designated pressure. Designed to be loaded in excess (to compensate for the need to perforate materials like metal), you can obtain these coil springs with either an open or closed end from European Springs and Pressings Ltd, and to make it easy for you to find the best spring for your needs we also colour code our products according to their intrinsic strength levels.
What marks us out among other spring suppliers is our ability to design and manufacture bespoke springs, and our die springs are no exception to that rule. If you can't find the model of spring you need within our extensive catalogue, then we'll be pleased to create a spring to meet your exact requirements, and can also offer a wealth of advice and information to help you develop the best possible product. A die spring is a commonly used spring, especially within environments where space is at a premium, so when you're in need of a quality product you can trust us to provide one.
Find Out More
If you require further information about the development of bespoke die springs for your project, then please feel free to contact European Springs Ireland; we'll happily provide you with all the information you need. Get in touch with us by phone on 0044 7889171165 or by sending an email to ieinfo.bec@europeansprings.com. Alternatively, you can fill out and submit our online enquiry form.