A deep understanding of your components is critical when designing machinery or products. Each part you select defines the product's functionality, influences its reliability, and shapes the lifecycle's longevity. It's not just about picking a part; it's about the strategic choice that embeds resilience and optimises efficiency in your design and the final application. With a reliable manufacturer, the final result will perform as expected for a significant life cycle. Read on to see the differences between springs, wireforms and pressings and why each is selected during the design process.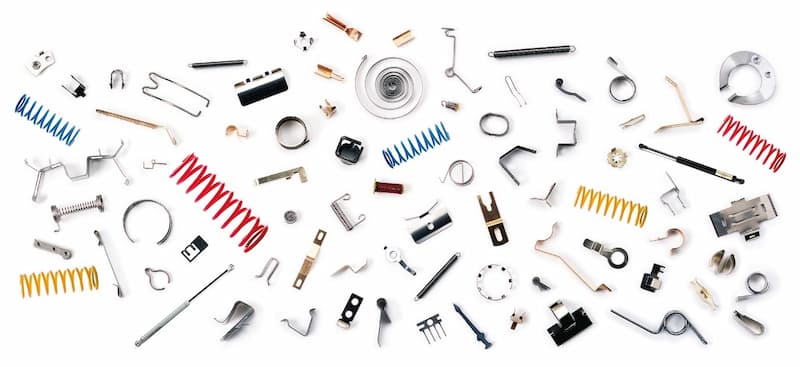 Comprehensive Examination of Springs
Springs, in the technical context, represent devices that store mechanical energy. They exhibit excellent flexibility and resilience, ideal for various applications requiring resistance to force.
The diversity and durability of our springs provide valuable solutions across all industries. Here are three examples of various popular spring types and their real-world applications.
Compression Springs
Unique Characteristics: Compression springs are designed to store and release energy linearly as they are compressed. They feature an open-coil helix design that can withstand a force applied either at the top or bottom of the coil.
Applications: Compression springs are evident in daily life; their applications encompass door locks, ballpoint pens, trampolines, and even industrial machinery.
Tension Springs
Unique Characteristics: Also known as extension springs, tension springs store energy lengthwise. They absorb external force that seeks to pull them apart and revert to their original shape once the force is removed.
Applications: Tension springs find use in diverse fields, including automotive interiors, garage doors, washing machines and various types of toys.
Torsion Springs
Unique Characteristics: Torsion springs are twisted coils that store rotational energy. Using the power of torque, they influence movements such as pushing, pulling, or holding components in place.
Applications: They commonly apply to clothespins, clipboards, mousetraps, swing-down tailgates, and much more.
The Spring Manufacturing Process
The manufacturing of springs involves the calibration of torsional stress. A metal wire is wound around a coil, and the process imbues the wire with mechanical strength, augmenting its power to store and release energy.
Subsequent to the winding process, heat treatment affords springs their required performance in the final application – it alleviates stress, indelibly enhances durability, and optimises the performance of spring-form devices.
Industries that use Springs
Springs unfailingly command a presence in our daily lives, notably in various industries such as automotive, aerospace, or electronics; springs are the silent workers that guarantee smooth operations.
The unique engineering properties of springs make them versatile, robust, and irreplaceable. They are the unnoticed backbones of many machines, powering diverse technologies and contributing unassumingly to our convenience.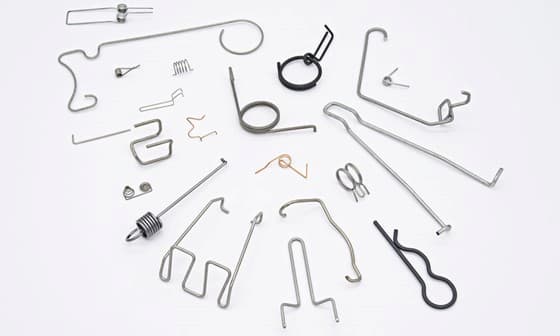 Wireforms – More Than Just Springs
Wireforms are intricate and versatile shapes crafted from metallic wire. While springs constitute a type of wireform, it's crucial to recognise not all wireforms are springs. They differ in form, function, and may vastly vary in application.
Embracing Wireforms
The bespoke nature of wireforms brings about an undeniable power to adapt. Every wireform created responds to individual client needs, specifications, and performance demands. This adaptability gives wireforms an edge over conventional springs, maximising their relevance.
Wireform Manufacturing
Fabricating wireforms involves expert engineering, which our in-house team of wireform manufacturers supply on a daily basis. Using advanced wire bending machines, our team shapes a metal wire into an intricate yet sturdy form. The process allows us to produce wireforms that meet a wide range of bespoke purposes.
Wireforms in Industries
Industries fathom the unending versatility of wireforms, thereby embracing them. Wireforms permeate industries like automotive, retail, medical devices, electrification, and beyond. Customised wireforms continually push the boundaries of innovation, easing complex challenges.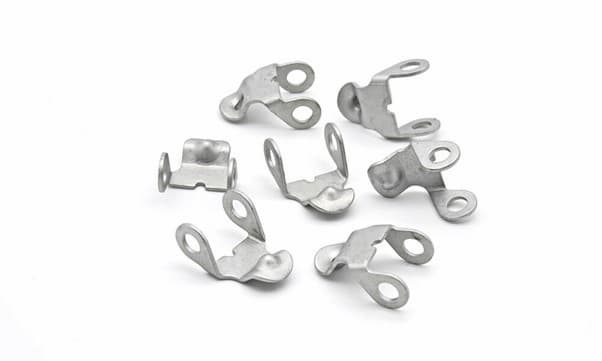 What are Pressings
Pressings, also called stampings, signify shaped metal parts. They result from subjecting metal sheets to high-pressure stamping or punching techniques. Unique in design and precision, pressings excel in durability and strength, standing apart from comparable components.
Industry-wide Applications of Pressings
Pressings take centre stage across various industries, such as the previously mentioned automotive, aerospace, electronics, and more. Their customizability positions them as the best solution, whether it's creating connectors in electronics or ensuring safety within automotive braking systems.
The Pressing Manufacturing Process
Manufacturing pressings involves skill and adept machinery. It starts with feeding a flat metal sheet into a press. Expertly arranged dies, then stamp or punch the sheet into the desired form. This process ensures perfectly shaped, high-strength pressings, enhancing their applicability.
To sum up, pressings echo ingenuity and precision. At European Springs, we leverage this engineering marvel to contribute to industries, aiding in creating products that define quality and performance.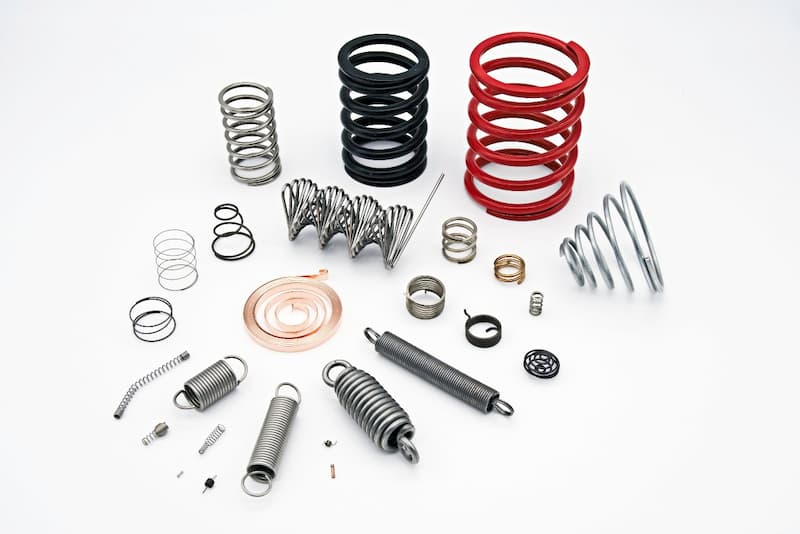 Comprehensive Design Checklist: Springs, Wireforms, and Pressings
Efficient product design demands precision decisions. And the choice between springs, wireforms, or pressings weighs substantially on your design's success. Crafted to guide you through this decisive process, here's your detailed checklist. Remember, this isn't just a list but a pathway to productive outcomes.
Define The Purpose Of The Component
Begin with identifying the role of the component within your design:
Does the mechanism demand storage and release of linear energy? Springs should take precedence.
Is a complex contour serving a specific function preferred? Wireforms align with this need.
Does the transformation of a metal sheet into a precise part suit the objective? Turn to Pressings.
Evaluate The Operating Conditions
Next, consider the environment in which the component will operate:
If temperature, pressure, and load fluctuate significantly, springs prove resilient.
If shaping or bending is needed for the end product, wireforms should top your list.
Consider pressings for applications requiring durable yet malleable metal components.
Reflect On The Manufacturing Process
Understand how the manufacturing process impacts your component choice:
For coiling and heat treatment processes, springs are the best choice.
For process-oriented designs requiring distinct contours, wireforms adapt well.
When the high-pressure stamping technique fits the bill, go for pressings.
Consider The Product Life Cycle
Look ahead and factor in the product's life span:
Springs offer longevity, standing robust under repeated stresses.
Given their complexity, wireforms require careful inspection and could need periodic replacement.
Pressings can withstand extensive use, making them reliable for long-term applications.
Analyse Cost Implications
Lastly, consider the financial aspect:
Springs offer cost-effectiveness for linear motion needs.
Wireforms may signify higher costs given their custom nature.
Pressings, due to mass production, generally promise cost-efficiency.
Remember, clarity, confidence, and a robust decision-making process lie at the heart of significant design accomplishments.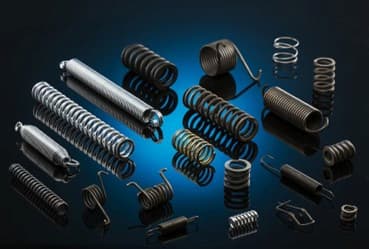 High-Quality Manufactured Components at European Springs IE
This understanding isn't just crucial for product designers; it's the difference between functional and exceptional products. Take the first step in your pioneering journey with European Springs IE.
So, no matter the industry you're designing for, the team at European Springs Ireland is here to provide the highest quality components to fulfil your needs. Browse our stock spring and pressings catalogue online or, to enquire about a bespoke spring order, please contact us today; we can't wait to hear from you and get started on your project.