Choosing the Right Spring for Your Project
We have previously showcased some of our springs that our CNC machinery allows us to manufacture, including wireforms and bespoke solutions. We have looked at compression, tension, and torsion springs, demonstrating how these are found in everyday life.
We will now cover disc, wave, and gas springs, three other springs we create in order to provide the perfect solution for your project.
Disc Springs
Also known as Belleville washers, disc springs are essentially comprised of conically shaped components. Used for more than 150 years, they allow for ease of stacking with similar springs and for ease of carrying very large loads, due to their very resilient shape.
Vehicular clutches and brake mechanisms make use of disc springs, which can be either linear or regressive in dynamic. Glide washers can be fit to avoid friction, which provides the recognisable curves and diverse column length of disc springs.

Gas Springs
Famous for their astounding form variation, gas springs number over 770 different products in our range, with more than 70 diverse fittings and bespoke options. Our experience in manufacturing these springs spans over 60 years, which allows us to easily determine which gas spring is suitable to your personal requirements.
Comprised of a cylindrical body filled with nitrogen gas, a seal, a piston rod, and a guiding function to provide the compression and extension movements as required, gas springs utilise the pushing force exerted by the nitrogen gas to put pressure on the piston. Commonly utilised for opening and closing car hoods or chairs, for example, they allow for ease of regulated movement.

Wave Springs
Unusual in appearance, wave springs' unique shape is made through "on edge coiling" or "edgewinding", allowing for a wave shape inside the flat wire to have spring-like properties. These springs are typically compact but can be designed to specified needs, if the one you require isn't in our catalogue.
If you require a spring that is 50% smaller in height and length than a round wire spring, then wave springs might be an ideal option. They are perfect for replacing coil springs due to their multi-coil framework and cost effective due to the use of less material in manufacturing.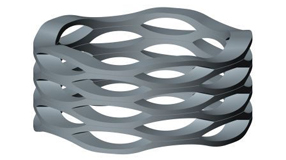 Through our 3D printing abilities we are able to print a replica of your product to scale, allowing to better determine the spring requirements for your project. For more information about our expert and professional services, you can contact us on 028 9083 8605 to speak to our highly-skilled team. We are always happy to answer any query you might have!
You can also follow us on Facebook, Twitter, and Google+ for our news and updates.