Different Types of Presses in Manufacturing
Throughout our decades of experience manufacturing high-quality pressings and stampings, we have developed our processes to create an expert service that is constantly in high demand from our clients worldwide.
Our team of engineers have earned a wealth of knowledge in this field, covering manual, semi and fully automatic production to suit the requirements of the customer's needs. One thing that became evident very early on is that no one type of press applies to every product. An important lesson is that adaptability is vital when conducting the bespoke pressings and stampings operations we offer. Therefore, our engineers must have a working knowledge of various press machines.

How Do Machine Presses Work?
Initially, pressings had to be created by hand. Before the machine press was invented, workers used tools such as hammers to change the shape of the metal. This was not only an agonisingly slow and physically draining process, but it would also be less effective on harder metals. So, this was replaced with the steam hammer around the mid-1800s. The steam hammer (or drop hammer) is the earliest known machine that led to modern pressings.
In modern manufacturing, the machines have replaced their steam with hydraulics. Every device will have its own unique designs, but all pressing machines share specific processes and features. Most pressing machines operate in a straightforward manner by pressing the workpiece plate or die onto the workpiece materials or into it for a more dramatic result. This process is controlled through multiple tool setters that ensure the position of the workpiece. This is when the hydraulics come in; the press pushes the plate or the die against each other using hydraulic pressure. This enables the desired change.
Machine presses rely on high pressure to create the intended results. Most machine presses use around 1 to 30 tons of pressure, which enables them to reshape a broad range of materials such as steel, beryllium copper, and stainless steel alloy. As experienced spring manufacturers, we have used carbon spring steel in our pressing operations with impressive results.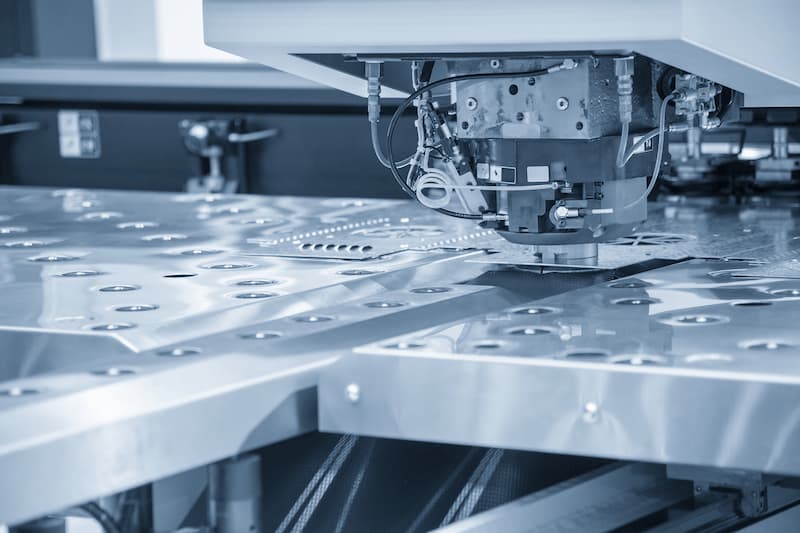 Punch Press
A punch press is the most well-known design of a press machine, and as the name suggests, this press deforms the material by punching holes into it. First, a portal frame with a centred ram or a C frame with a hydraulic ram. Punch presses can be operated manually, but with advances in CNC machining, computer-run punch presses are significantly more popular as they vastly increase production quotas.
Stamping Press
A stamping press is another well-known press design we use at European Springs a lot. While these are similar to punch presses, there are significant differences. They both use a pressurised tool to change the materials workpiece, but stamping does not create clear, clean holes like a punch press.
In this case, the material is pressed into the die to take the same shape, and the material is secured with a bolster plate between the die and a press tool. The tool in the stamping press is pushed into the material, forcing it to deform into the shape of the underlying die.
Lid Press
A Lid press is quite different to the previous examples. Whereas the previous focus was on changing the form of the material, this press is designed to apply a cover to an existing object. As a result, you'll find lid press machines most used mainly for sealing storage containers such as buckets or cans.
Press Brake
A press brake is exclusively used for metal manufacturing. The role of this press is to bend and deform metal workpieces such as sheet metals. These are sandwiched by a tool and die, similar to other operations, especially stamping presses, with the exception that this machine only works with metal pressings.
Screw Press
As the name suggests, the defining feature of a screw press is the screw-driven ram installed. This updated design has been around for centuries but is now usually controlled through CNC machining to twist and turn the ram and force the tool down onto the workpiece to get the desired shape.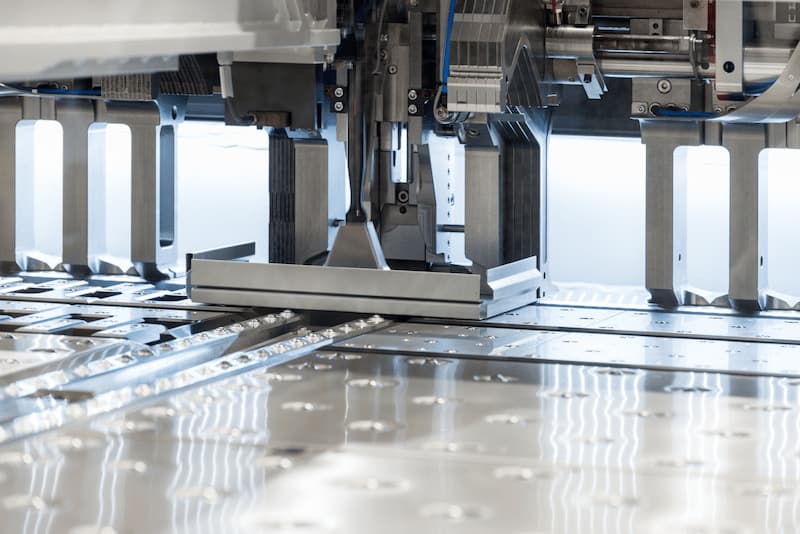 European Springs Pressings and Stampings
At European Springs, we can provide our clients with a broad range of materials to choose from, such as:
Aluminium
Beryllium copper
Brass
Carbon spring steel
Copper
Phosphor bronze
Stainless steel
super alloy
We can work these materials into your desired components from our high-quality strip material. This can include flattened wire for manufacturing flat springs and non-metallic materials if our clients prefer it.
Once you've worked with our design team to refine the idea, our engineers are able to decide the most effective method of creating your components in mass quantities using our fully equipped equipment room. They can create the perfect tool suitable for either manual semi or fully automatic production of your pieces.
Our facility has 24 progression power and multi-slide presses, with also nearly 40 single-stroke presses. This impressive collection of equipment allows us to create pressings efficiently, whether it's a single prototype or full production.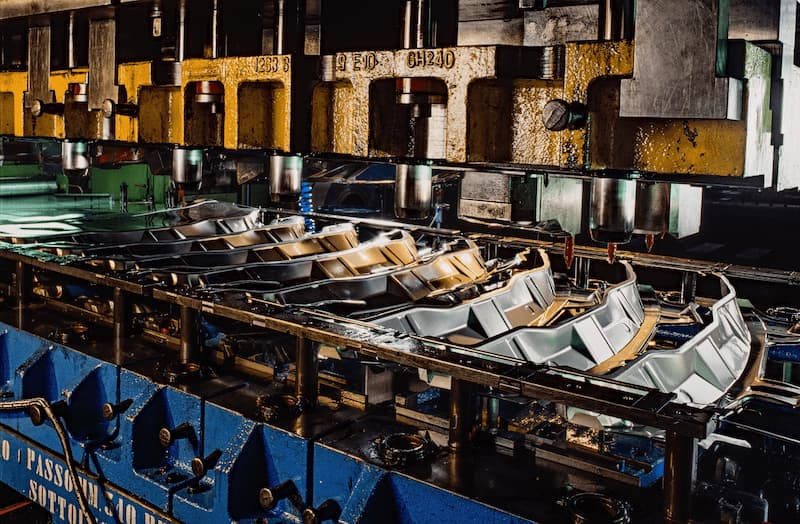 You can learn more about our acclaimed pressings and stamping process online, including how we can help you with your next application. We are not just limited to our high-quality pressings; we also diversify into manufacturing springs and wireforms, all of which are made by our expert engineers and available for order online.