Terms used in the spring manufacturing industry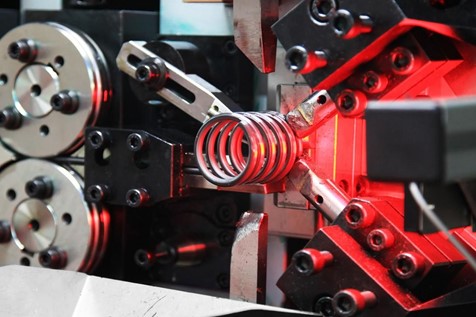 If you're just getting started in the spring manufacturing industry, you may be a little overwhelmed at the number of terms and various jargon you come across. Although the day you finally understand what each piece of terminology means might seem far away, we're here to help.
European Springs, Ireland, are market leaders and have almost 74 years of experience in the industry. We love sharing our knowledge and passing down our expertise to the younger generations, helping them to advance within the manufacturing and engineering sector. This is why we offer apprenticeship schemes and actively encourage those interested in the industry to start a career. To find out more about the work we do and get involved yourself, please get in touch with our team – we're always more than happy to assist.
Furthermore, in today's blog, we're providing a starting point for those beginning their careers in spring manufacturing by offering a list of common jargon used in the industry. Additionally, if you've worked in spring manufacturing for many years, don't go anywhere. You may just pick up some new and valuable information.
Our Glossary of Spring Manufacturing Terminology
Without further ado, here is a list of spring manufacturing jargon.
A
Active Coils – These are the coils inside the spring that are free to move after loading the spring.
Angular Relationship of Ends – The position of the hooks of tension springs, for example, next to each other.
B
Baking – Releasing hydrogen embrittlement through heating.
Buckling – The bowing or deflecting of compression springs during loading.
C
Closed Ends – The ends of a compression spring where the pitch of the end of the coil is reduced.
Closed and Ground Ends – The ends of a compression spring where the coils' pitch is ground square and flat.
Close-wound – Coils with adjacent coils touching each other.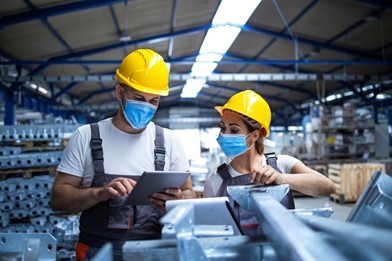 D
Dead Coils – Coils of a spring that don't affect the spring rate.
Deflection – This is what happens when a spring responds to force being applied or released.
E
Elastic Limit – The limitation of a spring's stress before it is permanently set.
Endurance Limit – The limit of a spring's lifetime.
Extension Spring – This is another term used for a tension spring.
F
Fatigue – The type of defeat which takes place after repeated or fluctuating stresses below the limit of the spring.
Fatigue Strength – Another term for Endurance Limit, referring to the limit of a spring's lifetime.
Free Angle – The angle between the arms of an unloaded torsion spring. Additionally, this could also refer to the position of the torsion spring's legs.
Free Length – The length of a spring in an unloaded position.
Frequency – This refers to the rate of vibration coming off a spring whilst both ends are grasped or attached.
H
Heat Setting – Reducing the load loss at the operating temperature by putting a spring under an elevated temperature.
Helix – Meaning round or circular.
Hooke's Law – A Law of Physics by Robert Hooke – the load is proportional to the deflection.
Hooks – The ends of an extension spring after being bent out to form hooks.
Hot Pressing – Another term for Heat Setting.
Hourglass Spring – This is a spring with coil diameters that are larger at the end.
Hydrogen Embrittlement – This happens when hydrogen is absorbed in electroplating, making them perceptible to cracks and failing under constant loads.
Hysteresis – When the mechanical energy is lost due to cyclic loading.
I
Initial Tension – The force gathered between the coils of an extension spring, making them stay together.
L
Load – The weight or force being applied to a spring.
Loops – Another term for hooks and sometimes referred to as eyes.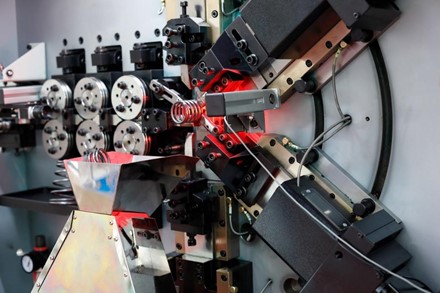 M
Mean Coil Diameter – This is the outside spring diameter (O.D.) minus one wire diameter (d).
Modulus in Shear or Torsion – Referring to the coefficient of stiffness used for compression and extension springs, also known as Modulus of Rigidity.
Modulus in Tension of Bending – Coefficient of stiffness for torsion and flat springs. Also known as Young's Modulus and Modulus of Elasticity.
O
Open Ends – The final coils in the compression spring.
Open Ends, Ground – When the wire's end is ground, it lets it stand.
P
Parallelism – The level to which two ground ends of a spring run parallel.
Passivating – Treating stainless steel with acid to remove contaminants and improve corrosion resistance.
Permanent Set – When a spring is deflected past its elastic limit and maximum safe load, Permanent Setting occurs. The spring loses its force and memory and will not return to its original length.
Pitch – The space between two coils in open wound springs such as compression springs.
Plain Ends – End coils of a tension spring that have no loops or other end forms.
Poisson's Ratio – The ratio of the strain in the longitudinal direction to the strain in the transverse direction.
R
Rate – This is the change in load proportional to the change in deflection. It is usually given in lb/in or N/mm.
Remove Set – This refers to the process of closing to solid height, which was coiled longer than the original desired finished length. This increases the apparent elastic limit.
Residual Stress – The deflection of a spring available past the top working position up to the solid position.
S
Shot Peening – This refers to the process of a spring that has been cold-worked and where the surface of the material is peened to cause compressive stress. This is often done to improve fatigue life.
Slenderness Ratio – Ratio of spring length (L) to the mean coil diameter (D).
Solid Height – This is the height of a compression spring once it's been fully compressed and all of its coils are touching.
Spring Index – Ratio of mean coil diameter (D) to the wire diameter (d).
Stress Range – The difference between operating stresses at minimum and maximum loads.
Stress Relieved – This is the process of subjecting springs to low-temperature heat treatment to relieve residual stress.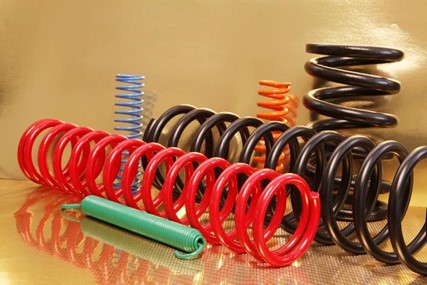 T
Torque – This is the product of the distance from the spring axis to the loading point and the force component to the distance line – often portrayed in N/mm. This is also sometimes known as Moment.
Total Number of Coils – The amount of active and inactive coils in a spring.
W
Wahl Factor – This corrects stress in helical spring's effects of curvature and direct shear.
Are You Interesting in Learning More?
Although this is not an exhaustive list, we hope it has been helpful, and you now have a better understanding of some of the spring manufacturing jargon you will encounter during your work in the industry.
As leading spring suppliers and spring manufacturers in Ireland, we're here if you need further assistance understanding any of the terminologies in today's blog Please get in touch to enquire about any of our products or more information about our apprenticeship schemes.